Dragonball ZT RPG

Tnsumi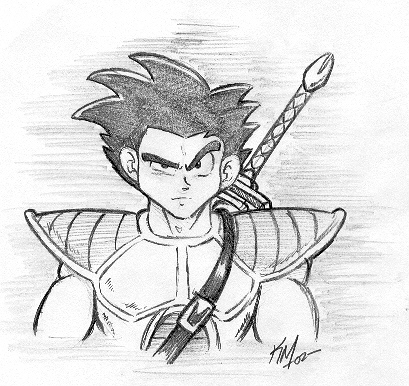 General Information
Species:
Gender:
Birth Age (Age):
Saiyan
Male
827 (37 - Deceased)
Personality
Tnsumi is friendly and outgoing. His most important value is honor, and his most valued person is his mentor, Kukem. He thinks every person is a valuable individual.
History
Tnsumi was mentored by his older cousin, Kukem. His real name is actually Peezer which he detests, and which Kukem fondly reminds him of often.
Shticks
Has a nigh insatiable appitite.
Stats
Power Level: 73,540
Power Up: 14,750
Defense: 240
Hits: 480

Experience: 0
Skills
Fighting (64): 90
Evasion (74): 100
Weapon (11): 37
Power (104): 130
Body (36): 60
Mind (46): 60
Characteristics
Mental: 14
Physical: 24
Combat: 26
Move: 8

Damage: 88
Fighting and Ki Techniques
Name
Dice
Type
Reokun Ki
Steady Stream
1,300
Ki
A golden energy beam created by entwining the fighter's two arms to one side until they cup, then thrusting both forward towards the target.


Fury Kick
+10 Hit
-10
Fighting
A lightning fast kick aimed directly for the sternum.


Triple Uppercut
-10 Hit
10
Fighting
Three consecutive uppercuts to the jawline using alternating fists.


Boost Techniques
Super Speed / Flight
Super Reflex
Super Strength
Utility Techniques
Burning Attack
Hide Power Level
Sense Power
Read Power Level
Eyebeams
Ki Force
Mind Techniques

Miscellaneous
Iron Skin
Saiyan Rage
Super Saiyan
Gravity 20x Mastery
Inventory
Saiyan Globeship
Flame Power Ring
Halo